Dear Readers,
For the 4th of July we just want to acknowledge how beautiful our country is. As a family-owned moving company in Santa Barbara, we believe families should take time to appreciate the natural wonders that America offers. But, wait, you say. "We can't just go traipsing about without a care in the world – we're moving!"
You might think that means less time to spend sightseeing. But, when you move with Hazelwood Allied Moving and Storage, our Santa Barbara moving company will do all the work while you enjoy the scenery. While our Santa Barbara movers are busy planning and coordinating your local, national or international move, here are some ideas for sights to see in California and the U.S.A.:
If you just want to get your home here in Santa Barbara in order, we can help there, too. Our Santa Barbara self-storage units, McCann Mini Storage, have served thousands of customers in Santa Barbara County over the years. Let us transport any household, garage, winter or workshop items to our easily-accessible Santa Barbara storagelocation while you're enjoying your Santa Barbara summer.
Hazelwood Moving and Storage is celebrating 100 years as one of the best Santa Barbara moving companies. We're honored to be part of an American tradition of commitment and service to our residential and commercial clients in Santa Barbara.


Lastly, we need your vote to be nominated this year in the Independent's "Best of" Poll! We will be under "HOUSING >> MOVING COMPANY"
⚠️ Voting closes on July 4th
✔️ Vote here: http://www.independent.com/bestof2018info/
Happy 4th of July!

Casey McCann
Phone: 805-963-4493
Email: casey@hazelwoodallied.com
p.s. As you know, businesses today thrive as a result of the reviews they receive from customers. If you're feeling in the mood, rate us on Google or YELP or Facebook, every rating helps! Many of you have been fantastic in showing your support and it's truly appreciated.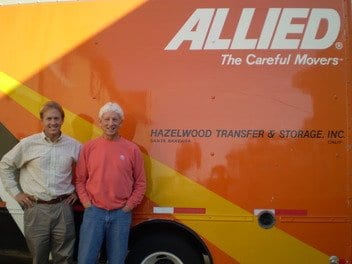 About Hazelwood Allied Moving and Storage: Servicing Santa Barbara, Montecito, Hope Ranch, Goleta, Santa Ynez, Solvang, San Luis Obispo, Ojai, Ventura, Camarillo, Thousand Oaks and Los Angeles, Hazelwood Allied is one of the oldest family-owned businesses in the Tri-County areas. Known as "The Careful Movers," our Santa Barbara moving company has everything needed for residential moves and commercial moves, along with a full range of Santa Barbara storage units. Visit the website at https://www.hazelwoodallied.com to read testimonials about our Santa Barbara movers. "Like" our Facebook page for moving and storage tips. Call 800-541-5958 for a free moving estimate.